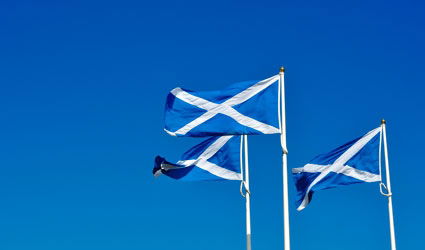 ONE part of the whole Scottish independence question that doesn't seem to have been covered is the effect it will have on expatriates.
What on earth is going to happen to all the thousands of Scots who, should the vote be aye, suddenly find themselves – among all the other aggravations – no longer members of the EU? This will surely remove a whole host of entitlements straight away.
No automatic residency, no access to free health care. Pension problems and presumably, as non EU members, a positive deluge of forms to fill in. If it's anything like my American friends have experienced, this is in itself a nightmare.  Contrary to popular belief I am not totally anti EC. I'm only against certain aspects of it, like open borders and Brussels attempting to control all we say, breathe or think.
I do feel in many ways there are a whole load of perks to be enjoyed by being members of one community. In fact, we are I believe, taking the first faltering steps into what will be the norm in a thousand years or so, that is to be merely Earth dwellers. (Particularly after our contact with other life forms).
If we last long enough, I truly believe we will all be coffee colored, tall and rather attractive Earth people, peacefully living side by side on this beautiful planet of ours (dream on Leapy). Meanwhile back to Bannockburn. I truly will be sorry if Scotland tries to go it alone and seriously question whether the majority of Scots truly believe it will be of benefit, or merely want to lift their kilts to the Sassenachs?
I do know that large numbers of Scots truly hate the English, as do many from Ireland, and frankly it's difficult to blame them; but really, as adults and hopefully intelligent, forward thinking people, can't we just put all the differences behind us and move forward united, setting an example to a world that is already splitting apart, basically because neighbors hate each other?
Hopefully we've come a long way from the Hatfield's and McCoys, and frankly I would hate to have to show my passport to visit a country I have always proudly regarded as a part of my own. Bear in mind, the old clichés are often the best. United we stand, divided we fall. Let's hope, common sense prevails, that the nos have it and the whole sorry debacle is put to rest for good. Now, what was that you said about beating us in the Six nations!? Up yer kilts the lotta ye. 
Well 40 years ago I wrote a musical. In a couple of weeks' time it is being played to one of the biggest impresarios in the UK. Will I be zimmering up that red carpet at last? Wish me luck. I will most certainly keep ya posted.
Keep the faith.
Love Leapy.  Leapylee2002@gmail.com