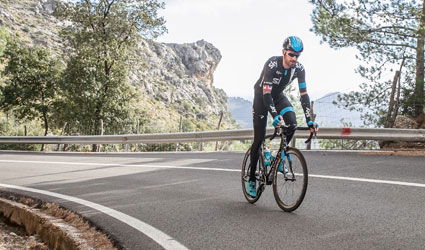 British Olympic Gold medallist and Tour de France winner Sir Bradley Wiggins is in town.
He will pedal through the Axarquia and Costa del Sol in the first stage of the Vuelta de Andalucia cycling competition, which starts in Velez-Malaga tomorrow (Thursday).
The British superstar cyclist will be joined by members of the Sky Team, to which he has belonged since 2010.
They will pedal the 186.8 kilometres of the stage, from Velez-Malaga's Paseo de Andalucia ending the day in Jaen.
This is the first time a stage of the Vuelta de Andalucia has started in Velez-Malaga; although the town served as finish line in 1961 and 1996.
The 60th edition of the cycling competition started with a preliminary stage on Wednesday in Almeria.
The race will take the participants to the eight Andalucian provinces through five stages; on day two the teams will cycle from Jaen 197.1 kilometres to Cabra, then from Sanlucar La Mayor a further 182.7 kilometres before returning from Ubrique to Fuengirola for the last 159.8 kilometre stretch.
The otherwise known as Ruta del Sol cycling competition will finish on Sunday in Fuengirola, on the Costa del Sol.
Sports network EuroSport will broadcast the last two hours of each stage in more than 70 countries.
This is the second cycling competition Sir Bradley Wiggins has taken part in Spain so far this year.
Earlier this month the 2012 Tour de France cycling race winner, and multi Olympics gold medal winner participated in the 23rd Iberostar Challenge in Mallorca (pictured).