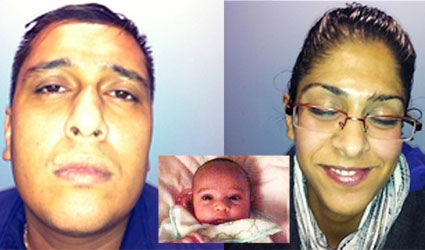 A British couple on the run, sought by Interpol for disappearing with their baby, are thought to be in Spain.
Harrow Council has been investigating the couple following concerns that they were unable to care for their 4 month old daughter. The Council said "the documentary evidence filed raises real concerns about the ability of the parents to care for the baby safely".
The couple, Mohammed Afzal and Zainab Rasul, went missing on January 16, taking their young child with them. It is believed that they were heading to Spain from Gatwick airport. 
At a football match between Manchester City and Barcelona on Tuesday night, the Spanish fans were asked to look out for the family on their return home.