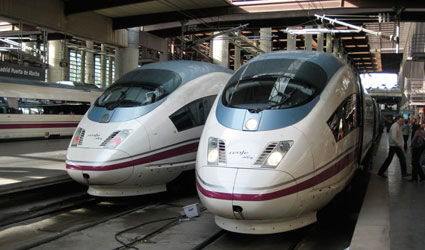 Spain's AVE high speed train is making inroads into domestic air travel.
Last year was the worst for internal flights since late 2001 when the 9-11 terrorist attack on New York's Twin Towers temporarily deterred all air travel. 
Fewer than 28.7 million passengers flew national routes last year, 4.7 million below 2012's figures and a year-on-year fall of 14 per cent.
The economic crisis is partly responsible and higher taxes at some Spanish airports did not help, particularly at Barajas in Madrid, but the AVE has taken the heaviest toll on domestic flights.
After the high speed train lost 485,000 passengers in 2012 the ministry of Public Works' lowered fares last year.  That decision paid off and the AVE moved 25.4 million people in 2013, an increase of 13.5 per cent.
Eventually the AVE could overtake flying as the preferred means of long-distance travel inside Spain.  Last November the number of air passengers fell by 3.4 per cent, the 25th consecutive month to show a decline.
Over the same period travellers taking the AVE rose by 19.9 per cent, only 47,000 short of air passengers compared with a 461,000 gap in 2012.
Find more articles concerning AVE train here