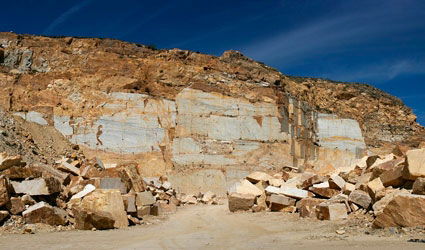 Macael Town Hall has announced that the new Marble Interpretation Centre will open on March 8.
The centre is destined to become the cornerstone of the tourism plan in the town. With less than a month until the opening of this facility, workers continue to work flat out in preparation for visitors who will be able to learn about the past and present life of the marble quarries.
The centre, which covers an area of 300 square metres, will take the visitor on a journey through the history of Macael linked to the exploitation of marble. It will feature a scale model of the  Sierra de los Filabres sculpted from a block of marble and will highlight buildings such as the Roman Theatre of Merida, the Patio de los Leones in the Alhambra, the Monastery of the Escorial and the  Royal Palace of Madrid, showing the signs of expertise and the value of this raw material extracted for centuries from the bowels of the mountain.
Mayor Raul Martinez said: "It will be closer to a museum rather than an interpretation centre. The differentiating factor with respect to other similar tourist attractions will certainly be the possibility for the visitor to visit a quarry.
"Macael mining is very much alive and the visitor is going to be able to see a stonemason at work. We're talking about a live sector and the visitor can get inside," said the enthusiastic mayor.
The construction of the centre has cost approximately €30,000, with  the town hall being backed by a number of companies and members of an employment workshop.  The mayor is optimistic that the centre will work. "Fifteen years ago no one foresaw the elaboration of  the wine trade. Today 20 per cent of revenue in some wineries in this area is based on tourism. That is a good example to take note of in this new bid for industrial tourism," he added.