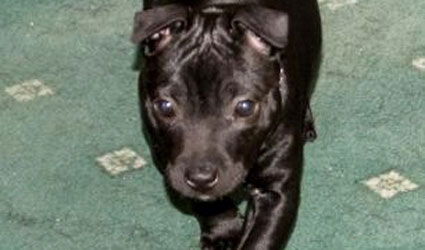 A puppy in the UK has died from nicotine poisoning after she chewed a bottle of e-cigarette filler.
Ivy, a 14 week old black Staffordshire Bull Terrier, bit through the bottle of liquid, which is laced with nicotine, and punctured the bottle. She only consumed a tiny amount, but sadly died within a few hours.
The first signs of illness were frothing at the mouth and vomiting, at which point the dog's owner rushed Ivy to the vet who treated her with large doses of steroids, however the puppy died the next day when her lungs and heart gave up the battle.
Nicotine is poisonous to animals
E-liquid contains nicotine in varying amounts, depending largely on the brand, and other chemicals such as propylene glycol and polyethylene glycol, vegetable glycerine and flavourings.
Nicotine is poisonous to dogs and cats; signs include vomiting, diarrhoea, abnormal heart rate, lack of co-ordination, tremors, weakness and collapse.  Owners should seek immediate attention from their vet if they see any sign that their pet may have been poisoned.