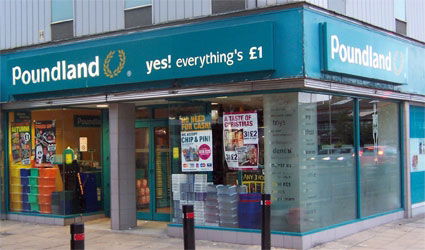 Poundland, the British chain of shops that charges £1 for everything, is set to open ten stores in Spain over the next two years. The ten stores will be part of an initial test phase, with further rollout planned across Europe.
Poundland has 31 shops in Ireland, where the currency is the Euro, under the name of Dealz. The first stores to open in Continental Europe will be in Spain, also under the Dealz label.
The price set in the European Dealz stores will be €1.49 on 90 per cent of the goods, with the remaining items retailing from €2 to €5, according to Chief Executive Jim McCarthy.
Mr McCarthy has commented that "The success of Dealz in the Republic of Ireland was a clear demonstration that we have the capability to generate positive financial returns in new geographies quickly.
"We have been very careful and thorough in our evaluation of further European expansion opportunities and we are confident that our offer and our model suits the Spanish market well.
"We have a very detailed, low risk and low cost entry plan and the management strength and capacity, in the UK and in Spain, to execute it well. I'm confident that Poundland's amazing value will quickly resonate with Spanish customers."
The company began 20 years ago, set up by Steve Smith a former market trader. He sold the business for £50 million. The chain now comprises of over 500 shops employing around 12,000 people.