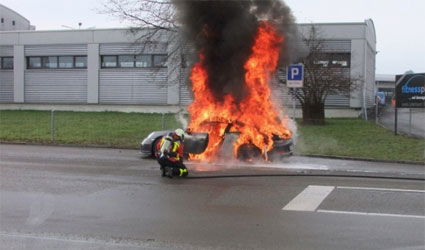 Porsche have suspended delivery of all 911 GT3 models after a series of spontaneous combustion problems.
Three years ago there were similar problems with Ferrari, closely followed by some Lamborghini's, but now Porsche's are becoming too hot to handle.
There have been five documented cases recently, the latest 911 GTV to suffer was on the Wilerstrasse, in Switzerland. The driver first noticed a strange noise; the car then started pouring smoke together with leaking oil from the rear engine. The vehicle ignited shortly afterwards.
Firefighters were able to extinguish the fire, although the car was a total write-off.
Porsche are taking the situation extremely seriously and have ordered the suspension to enable an investigation into engine quality issues.