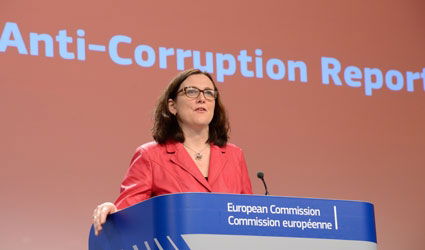 Just 5 per cent of Spaniards do not believe that corruption is 'widespread' in the country.
According to a new anti-corruption report by the European Commission 95 per cent of the population feels corruption is widespread.
A press statement from the EC said: "Although an anti-corruption legal framework is largely in place in Spain and law enforcement has shown good results in investigating corrupt practices, the report does show a certain number of deficiencies.
"Particularly challenging is political corruption and deficient checks and balances, notably in public spending and control mechanisms at regional and local levels.
"In this report, the European Commission suggests that tailor-made anti-corruption strategies for regional and local levels administrations are developed, that on-going reforms and implementation of the new rules on party funding is pursued, and that comprehensive codes of conduct for elected officials with adequate accountability tools are developed."
Corruption is making the spanish lose faith in the government
Cecilia Malmström, EU Commissioner for Home Affairs, said: "Corruption undermines citizens' confidence in democratic institutions and the rule of law, it hurts the European economy and deprives States from much-needed tax revenue. Member States have done a lot in recent years to fight corruption, but this report shows that it is far from enough. The report suggests what can be done, and I look forward to working with Member States to follow it up", 
The Commission is also suggesting that irregularities in public procurement procedures at regional and local levels should be addressed further.
Alongside an analysis of the situation in each EU Member State, the European Commission is also presenting two extensive opinion polls. More than three quarters of Europeans, and 95 per cent of Spanish citizens, agree that corruption is widespread in their home country. Approximately one in four Europeans considers that they are affected by corruption in their everyday lives. In Spain, that number is 63 percent, the highest percentage in the EU.
Four per cent of Europeans, and 2 percent of Spanish citizens, say that they have been asked or expected to pay a bribe in the past year. The Commisssion has estimated that corruption costs the EU economy around €120 billion per year. The report shows that both the nature and level of corruption, and the effectiveness of measures taken to fight it, vary from one Member State to another. It also shows that corruption deserves greater attention in all Member States.
This is illustrated by the results of a Eurobarometer survey on the attitudes of Europeans towards corruption published today. The survey shows that three quarters (76  per cent) of Europeans think that corruption is widespread and more than half (56per cent) think that the level of corruption in their country has increased over the past three years. One out of 12 Europeans (8 per cent) say they have experienced or witnessed a case of corruption in the past year.