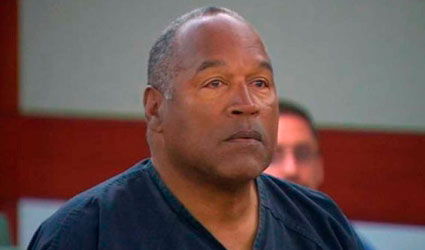 Former football star OJ Simpson, currently serving a prison term for kidnap, assault and robbery has allegedly announced that he is on hunger strike.
He is reported to be depressed and has been quoted in the US press as saying he wants to die his way, after living his life his way and wants to end his life in the Nevada jail where he is serving a 33 year jail term.
The 66-year-old who was acquitted of killing his ex-wife Nicole Brown and her friend Ron Goldman in 1994, wants to leave his fortune to his four children, Sydney, Arnelle, Justin and Jason, but has concerns that it would go to the Goldman estate after a civil action awarded the Goldman family $33 million.
Simpson believes the only way he can guarantee that his children get the money, which is stored in pension funds, is to kill himself.
Press reports have stated that Simpson is losing weight and that guards have been told to leave him if he lapses into unconciousness. Last year there were unconfirmed rumours that he was suffering from a brain tumour and refusing tretment as well as apparently suffering from diabetes.
Simpson was sentenced to between nine and 33 years in Nevada state prison and, although granted parole for some of the convictions, he must serve at least four more years before he is eligible for parole.