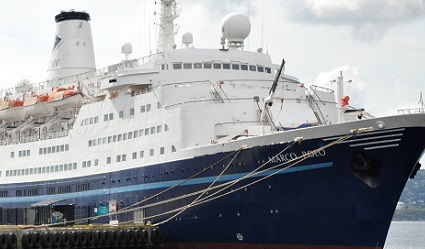 A PENSIONER was killed when a freak wave hit the cruise ship he was travelling on with his wife.
The couple were dining on the last night of the 42 night cruise when the wave struck the ship during storms, causing floods of water to rush on board through a window, killing the man almost instantly. A further 14 people were injured and a 70 year old lady had to be airlifted to hospital.
The 'Marco Polo', a British cruise ship, was in the English Channel heading to port in Tilbury, Essex, when the incident occurred. Witnesses have said that waves were as high as the ship, which was being heavily blown aroud and tilting while foamy water filled the restaurant.
Severe weather has been causing damage across Britain for weeks with floods leaving large areas underwater. In other areas of the country, two more people were killed by the storms. A mother of three was killed in a taxi in London when part of a building dropped onto the mini cab; another victim was eight and a half months pregnant, she died in a car crash in South Wales during hurricane conditions.