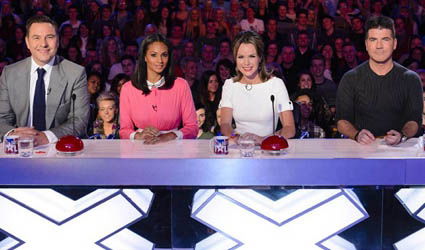 Valentine's Day will have an extra special meaning for Simon Cowell from now on as girlfriend Lauren Silverman presented him with his first child, a son.
The X-Factor judge flew to New York, leaving auditions for Britain's Got Talent, leaving fellow judges David Walliams, Alesha Dixon and Amanda Holden to hold the fort.
The baby, named as Eric, weighed in at 6lbs 7oz (2.9kg), and was born at around 11pm UK time on Friday night. It is believed the baby had been named after the stars late father. A spokesman for the couple had confirmed that Cowell had been present for the birth.
In true celebrity fashion, Cowell, 54, posted his news on Twitter, saying: "Very happy to say Eric was born at 17.45pm. Healthy and handsome.
"Lauren in great shape. Thanks for all of your kind messages."
In an interview last year, Cowell had said he would be at the hospital, but not actually at the birth itself. Cowell had admitted that fatherhood had not been in his plans saying "It's something I hadn't thought of before, but now I know I feel good about it".
Last August he admitted that he was looking forward to his new role as a father.