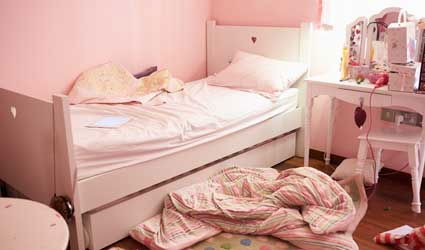 "I'll do it later. Do I have to? I don't want to!" Sound familiar? My daughter and I have been fighting like cats recently. It takes a regular pattern. Saturday afternoon we get in from activities or shopping or whatever other business we have had to do. Lunch is done and then it's time for the weekly clear up. And door-slamming, roof-raising all-out fight.
Did cavewoman fight with their children about putting their mammoth furs away? Do the tribeswomen from the Amazon have to badger their offspring to put their reeds and beads back in the right place? No, because they didn't have extra stuff that needed anywhere to be put. They didn't have eight different versions of the same t-shirt. They didn't have attachments to pink plastic or a collection of summer clothes which should be put in a bag or given to charity. It's a high maintenance occupation having too many possessions. And mostly it's not myself or my husband or even Gidg which are responsible for the incoming and ongoing 'Stuff' problem.  At Christmas time when we were visiting our relatives in the UK we had to drag two enormous laundry bags back across the country and on to Easyjet. And they were filled with pink things and miscellaneous stocking fillers and other cack.
So although I want to lose my temper with Gidg about her inability to keep her room tidy, it's not exactly her fault. But the problem remains, and I refuse to tidy it up for her either. It's time for her to take on some level of interest in her own surroundings. And hence the rows. That was at least until it was suggested to me by Julie Staley and Jay Hirons, the good people at the Kip McGrath Education Centre in Palma and my friend Pete Branch who is a teacher in Brazil that I use a points system. 
"Right then chick, I am going to give you a points for doing things which are helpful. So you can get a point for helping to do the washing up, you will get a point for clearing up your bedroom, and when you have twenty of those points you can have a treat". Her eyes shone and her brain started ticking. Suddenly my little girl went from being a grumpy tweenie to a motivated strategist. An interesting shift that's for sure.  We haven't had a row in two weeks, her bedroom is more or less tidy, I can see the floor anyway, and she's seeing opportunities to be helpful. She's not had any points removed for being lippy, but that would be the case.  We're currently at 17 points, we're three away from a horse riding lesson. Oh, and that's another proviso, the points win her experiences, not prizes.  www.familymattersmallorca.com