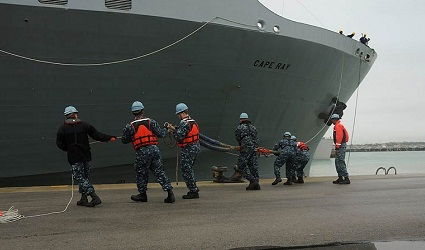 The American ship MV Cape Ray arrived Thursday at the Spanish naval base of Rota for crew rest and refuelling ahead of an unprecedented mission to collect and destroy highly toxic substances that form part of Syria's chemical weapons programme.
The ship, which left Portsmouth, Va. Jan. 27, will leave Rota when Syria has completed removal of its chemical materials and proceed to the transloading port in Italy, Defense Department spokesman Col. Steve Warren said in a statement.
The vessel was modified to contribute to the United Nations and the Organisation for the Prohibition of Chemical Weapons joint mission to eliminate Syria's chemical weapons materials.