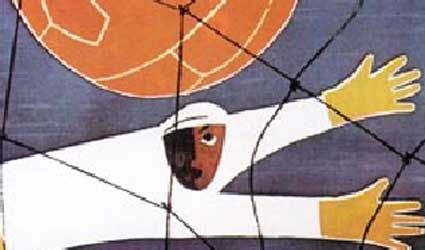 The 1954 Tournament in Switzerland
By Tony Matthews
For 1954, FIFA used a unique format. The 16 qualifying countries were divided into four groups of four, with two seeded teams and two unseeded teams in each.
The four groups comprised: (1) Brazil, France, Mexico, Yugoslavia; (2) Hungary, Korea Republic, Turkey, West Germany; (3) Austria, Czechoslovakia, Scotland, Uruguay and (4) Belgium, England, Italy and Switzerland.
After drawing 4-4 with Belgium and beating the host nation 2-0, England qualified for the last eight along with Austria, Brazil, Hungary, Switzerland, Uruguay, West Germany and Yugoslavia. Unfortunately, Scotland lost both their matches, 7-0 against Uruguay and 1-0 v. Austria.
Uruguay knocked England out 4-2 in the quarter-finals, while Austria won a 12-goal thriller against the Swiss by 7-5, Hungary beat Brazil 4-2 and the Germans ousted Yugoslavia 2-0.
Thirteen more goals were scored in the semi-finals as Germany beat Austria 6-1 and Hungary took out Uruguay 4-2. This set up a grand final between Germany and Hungary whose team of Puskas, Hideghuti, Bozsik, Koscis and company, had belted England 6-3 and 7-1 in two friendlies during the 1953-54 season.  And in an earlier group game Germany had actually been thumped 8-3 by the Magyars.
But two football matches are never the same and after going 2-0 down in the final in Berne, before a 60,000 crowd, Germany came roaring back to cause a major upset by winning 3-2 with the Walter brothers leading them home.
The average attendance at each WC games was over 36,000 and Sandor Koscis of Hungary was top-scorer with 11 goals.
* Next: 1958 in Sweden and a first triumph for Pele.