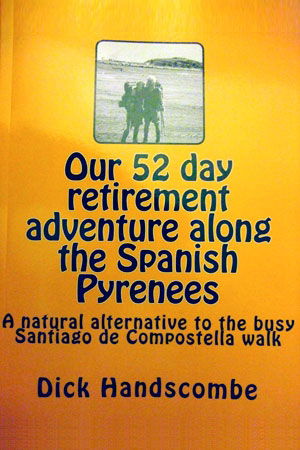 This 335 page book describes an adventurous 52 day 950 kilometre walk carried out by our gardening author Dick Handscombe and his wife Clodagh carrying heavy backpacks for the first time in their lives.
Dick regards it as his lifetime odyssey. The book is written as an interesting, indeed gripping at times, travelogue describing the day by day journey from the windy wet rocky headland of the Cap Higuer on the Bay of Biscay to the warm sandy beaches of the Mediterranean Sea at Llanca following the Pyrenees  on the Spanish side.
 Walkers and non-walkers alike will enjoy –  in the comfort of an arm chair – the varied experiences, the wonderful wilderness scenery seen, the amazing flora and fauna, the setbacks and route changes required when unexpected deep new snow blocked the originally intended route, the adventures of wild camping and the comforts of village hostelries to clean up and have a rest day after each seven days of continuous walking. 
Their diet en route including almost daily feasts on wild strawberries and scares from signs of a bear and an attacking eagle.  Unexpectedly they only met one other long distance walker during the seven and a half weeks. To reflect this the subtitle of the book is ' A natural alternative to the busy Santiago de Compostella walk'.
Price Amazon UK as at 2 February :  Soft back book  £7.72, Kindle book   £1.87. Also available via Amazon Spain etc.
BOOK TITLE :  Our 52 day retirement adventure along the Spanish Pyrenees
AUTHOR:  Dick Handscombe
ISBN: 978-1494951955
Available from Amazon Books as a soft back traditional book or Kindle book.