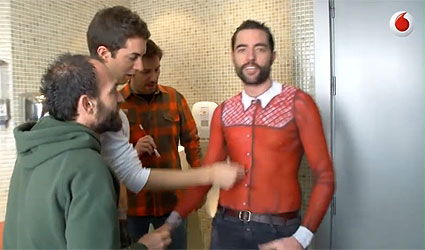 SIXTY-FIVE people turned up at Alicante city's Vodafone shop hoping for a free €600 smartphone.
Those at the tail end drifted away because Vodafone Wallet offer was limited to 50 mobiles.
Those waiting up to 24 hours in some cases in Calle Maisonnave were all naked apart from underwear and body paint.
This was the condition stipulated for walking off with a Samsung Galaxy S4 4G+.  Some came with their clothes over the body paint, others brought it with them to put on nearer the time.  The Alicante weather helped with a pocket of warm marine air that brought unseasonably high temperatures, although many were huddled under blankets.  Others clustered round heaters outside the shop entrance.
"It was worth the wait, though," declared a happy Roma Svanishvili who queued for almost 24 hours outside the shop.  "And we had a laugh," he said.