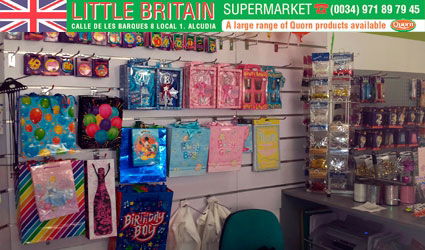 LITTLE BRITAIN, your home from home for all your old favourite British staples, is even bigger and better now.
The supermarket has moved to larger premises and has an even bigger range of stock than before.
Owner Donna Mann said: "We have finally maaged to do what we always wanted to do right from the start, but we could not find the right premises until now.. We can now hold many more products and offer much more to our customers.
Now that the supermarket has got the right feel and look we can grow in the direction we have have always wanted to. We always value our customer feed back and suggestions and will always do our best to satisfy our customers' needs and wants.  With the improved look and feel to the new premesis we feel that this has been achieved. We look forward to a great new year ahead with this being the start of the real Little Britain, and will continue to make this business great success with the help of our loyal local customers and NEW customers from across the island."
As part of their expansion Little Britain now offers a great new range of baking products from flour to icing, flavoured fillings, decorations, in fact anything you need for your baking creations.
The ranges of Linda McCartney  and quorn products have expanded too. Also on offers are gifts and helium balloons for practically all occasions.  
Of course they also have all the extensive range of products you would expect for a supermarket, including all items expatriates miss from home. Being in the north of the island is also great for the English tourists who miss their favourite items that you can't get in the normal supermarkets.
Little Britain not only serves people from that area, they have people that come from all over just to get that taste of home.
They also have fresh produce so if you fancy some fresh parsnips or swedes with your roast dinner, they have them available individually.
Whatever your requirements, Donna will always be there with her friendly smiling face to serve you. For further information, call 971 897 945, email little-britain1@hotmail.com and Facebook: Little Britain Alcudia. The new address is C/ de les Barques 8, Local 1 Alcudia.