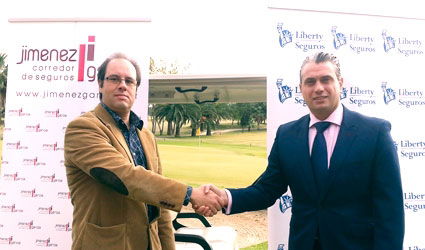 LIBERTY SEGUROS has been elected by AEGG (the Association of Directors and Managers of Clubs and Golf Courses) as the Insurer of preference for golf insurances. 
The agreement, which ensures that all of AEGG's members are entitled to the best benefits when contracting a Liberty Seguros golf insurance, was signed by Manuel Lozano Pose, Manager of AEGG, and Francisco Javier Muñoz Postigo, Commercial Director for Liberty Seguros in Malaga.
AEGG is a non profit organisation who looks to boost, develop and present the role of Golf Club director/management, making it the ideal organization for Liberty Seguros to team up with in order to be able to grow in the field of specialist golf insurance. 
As Manuel Lozano Pose, Manager of AEGG said: "This agreement is very beneficial to the organisation: to be able to count on a partner such as Liberty Seguros is a breakthrough as they will be able to offer us comprehensive cover, that can be adapted to our specific needs." 
The policy covers breakage and/or damage to equipment and clubs during the course of play, as well as cover against fire and theft as a result of intimidation or violence whilst being transported by the insured, whilst stored with the caddy-master or at the pro-shop. Perhaps even more importantly, it provides Personal Accident  Cover for death, permanent disability and medical expenses resulting from accidental injury occurring at the Golf Course.  Third Party Liability is included up to €100.000, which also covers accidents whilst playing abroad, provided that liability would have applied to the insured had the same accident occurred in Spain. 
Ask your Liberty Seguros broker about these competitively priced golf policies and ensure you tee off with absolute peace of mind, whilst at any officially recognised club ANYWHERE IN THE WORLD!
Go to www.libertyexpatriates.es to find the nearest broker that speaks your language!