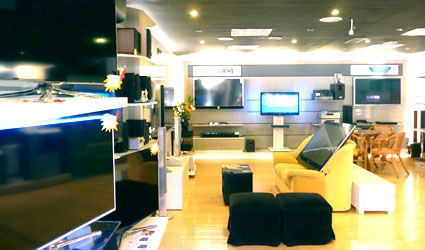 BLANKENSTEIN Satellite Systems is the largest official satellite installer of digital systems on the Costa del Sol for reception of Canal Digital, TV Vlaanderen, and Sky/Freesat television. Founded by the late Ronald Blankenstein from Holland, it is run by his widow Mieke Blankestein with Rene Kimpel and Danielle Meuwszen helping run operations.
The company has been in Spain 26 years. As Rene stated, they are "the only local satellite business around this long."
They are official dealers for Bose, Loewe, Sonos, Samsung and other top brands, serving clients from Nerja and beyond, down to Tarifa, inland up to Granada and even as far as Madrid. Blankenstein caters to all communities, including British, German and others.
Showroom staff are joined by certified technicians on call who have been with Blankenstein for 10 years, offering consistency and dependability even during busy times. Excellence in installation means that "we deliver on what we promise" while also being up-to-date with the latest technology.
Blankenstein prides itself on offering high-end, quality products with solid pre-sales advice and exceptional after-sales follow-up, which is what makes Blakenstein special. "For us this kind of attention to service is normal. This is how the company grew to where it is now," explained Rene. Also, "the duration of our systems is much longer due to the professionalism and quality of the equipment."
Guarantees are also handled directly from the shop, not from the manufacturer, so if a part needs to be sent back to England, Blankenstein finds solutions so clients are not without TV in the meantime. Working together with other companies allows them to offer complete, integrated packages that work for their customers.
One of their highlighted products is a video surveillance system where clients keep tabs on things even when travelling simply by logging into their iPhone or tablet. Blankenstein also specialises in installing community systems for television, satellite and IPTV for hotels and other community groups.
Custom-made installations also mean that technicians will visit your home for a professional assessment. Customers are welcome to stop by for information and advice during opening hours.
Blankenstein
Calle Alberto Fernandez
Torreblanca, Fuengirola
952 47 66 88
info@blanksat.com, www.blanksat.com