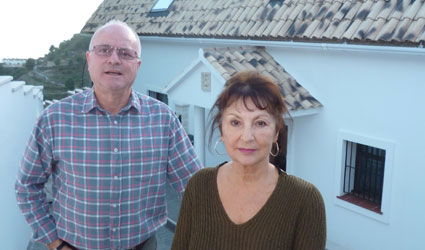 A BRITISH couple is threatening to file criminal charges against the mayor of Mijas after they had a demolition order placed on their converted mill home.
Tony and Rita O'Rielly received a letter out of nowhere from Mijas council stating their beautiful historic house is under imminent threat of being demolished. The town hall claimed it was built illegally in 2010.  According to both Tony and his lawyer, however, this is impossible as the structure was originally built in 1964 as a flour mill. Later sold to a British owner, the structure was eventually embargoed and repossessed by the urbanisation, after which the O'Riellys bought it directly from the courts in 2008, when a judge issued them the deed in a Torremolinos court. The background file on the historic home includes photos of the original structure from decades ago.
The town hall claims it was an empty plot with no house on it. Yet with all paperwork and original photos intact, the O'Riellys are asking how on earth they can be accused of illegal building.
Neighbours predating the O'Riellys moving in are testifying the house has been there decades. The situation is even more ironic considering that Tony Riley is the president of the urnanisation community. Their neighbours are outraged.
The O'Riellys are naturally in shock. "A judge sold it to us! How can this be? They've ignored their own lawyers' papers, their own judge's rulings. It's a nightmare you can't wake up from." Their fear is that they are not the only ones subject to the injustice.
The demolition file from Mijas Town Hall has excluded vital evidence proving the house's actual age, according to Tony. "They've taken the relevant papers out of the file to say that we built the house, but we didn't." When Tony and his lawyer presented the evidence, it was not accepted. Tony stated: "We have proof the house is legal, but the ayuntamiento won't even accept the proof we have to offer."
All efforts to get an appointment with either Mijas mayor Angel Nozal or head of demolition Manuel Navarro have proven fruitless. "They couldn't care less," Tony stated.
Tony's lawyer told the Euro Weekly News: "It has gone far enough that we're considering filing criminal charges against Mijas mayor Nozal and councillor Navarro. If something isn't done, this is exactly what we will be doing. This is a perversion of justice."
Tony added: "We probably aren't the only ones this is happening to."
This is not to say that the O'Riellys believe the mayor is behind the demolition threat. However, someone must ultimately be behind it, leading Tony to say: "We have to keep someone accountable for these unjust