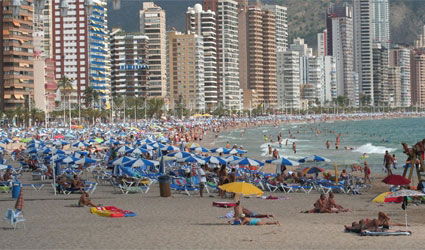 SPAIN rose up the international tourism rankings in 2013 by overtaking China to take third spot.
The record 60.6 million international visitors it had left it behind France (83 million) and the USA (67 million) for international visitors, according to the UN's World Tourism Organisation (UNWTO).
The 5.6 per cent rise in foreign tourists helped boost the economy, accounting for 11 per cent of the county's Gross Domestic Product (GDP).
The news came as part of as worldwide rise in tourism that saw international arrivals across the globe rise by 52 million or 5 per cent, reaching 1.08 billion, despite the world's economy still being in 'low gear'.
Demand was strongest in Asia and the Pacific (+6 per cent) Africa (+6 per cent) and Europe (+5 per cent).
The UNWTO's Secretary General, Talem Rifai, said in the World Tourism Barometer report: "2013 was an excellent year for international tourism. The tourism sector has shown a remarkable capacity to adjust to the changing market conditions, fuelling growth and job creation around the world, despite the lingering economic and geopolitical challenges.
"Indeed tourism has been among the few sectors generating positive news for many economies."