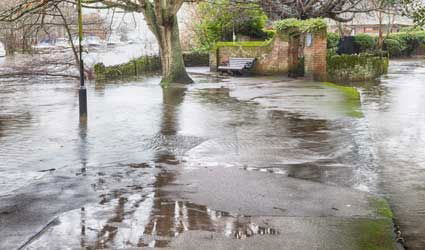 WELL. Down here in Tenerife we've finally lost the BBC. I 'm not sure about the rest of the country, but, with the shifting of the satellite, the whole BBC ORG. is, until I work out another source, an ex-member of my telly club.
And do you know something, apart from the oft excellent documentaries and Flog It, I really don't miss it. Simply not having to listen to the biased drivel of BBC news has, I think, actually lowered my stress level overnight.
The recent storms have been a case in point. You can almost feel the frustration straining through the screen, as they have tried vainly to blame the government for all the recent storms and flooding. Unfortunately, without raising the status of the Conservative party to that of God, (heaven forbid) they've been unsuccessful; but by Jove they really have tried.
Their cross section of politically correct announcers have regaled us with all the, 'couldn't more have been done's 'Why wasn't it anticipated's. Why weren't we more prepared? Shouldn't we have paid more attention to global warming, 'green matters' and so on? Give us a break.
These storms are the worst since records began. You can't anticipate or prepare for something that has no precedent. By this reckoning we should be building fleets of space ships in case the world comes to an end. One thing I do agree with is the speed, or lack of it, the government has acted to relieve these areas. When the furore and floods subside, there should be serious questions raised in these directions. Mind you, by my reckoning, for all the real errors of judgment over the past decade, the incompetent sanctimonious Labour Quango chief Lord Smith should resign forthwith. No, back on the ranch I don't miss the BBC, and as for Eastenders, I, frankly I lost interest in that after the first time they shot 'Dirty Den'.
I see that by recent reports there are now hundreds of 'British' men training in Al Qaeda camps in Syria, apparently with a view to launching terrorist attacks back in the UK. I sincerely hope the anti-terrorist organisations have their fingers firmly on this bunch of toe rags threatening to blow up the hand that fed them. Mind you they do have their 'uman rites' you know, so I suppose they must all be allowed back to see their families, and no doubt collect the dole while they plan to kill the people who welcomed them into their communities. The only rites these traitorous murders should be entitled to are the last ones. Their families must know who they are. If they are all so 'moderate' they should shop 'em to the authorities forthwith. But they won't will they?
Keep the Faith
Love Leapy.  [email protected]