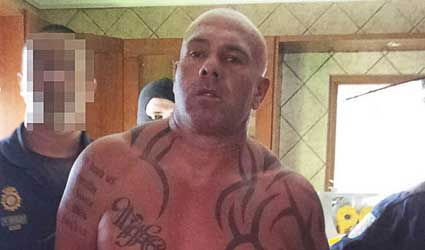 Mark Lilley, jailed after spending 13 years on the run on the Costa del Sol, has launched a legal bid challenging his sentence.
The infamous tattooed drug baron, has instructed his legal team to bring a case stating the extradition process to force him back to Britain was illegal. His barrister, Anthony Barraclough, is expected to lodge papers at the High Court shortly challenging the legality of his jailing.
Lilley is currently serving a 23-year term after escaping to Spain in 2000 prior to his sentencing for conspiracy to supply drugs. The 42-year-old was finally caught by armed officers who burst into his luxury villa on the Costa del Sol. They found him hiding in a panic room at his luxury mansion.
He was flown back to Britain to serve his jail term.
Lilley, who has changed his name to Tony Alan Tague, is arguing that it was illegal for British judges to ignore a request from the Spanish judiciary for him to be retried on his return.
A spokesman for Crown Prosecution Service (CPS) denies that the Spanish authorities can compel their British counterparts to order a retrial.