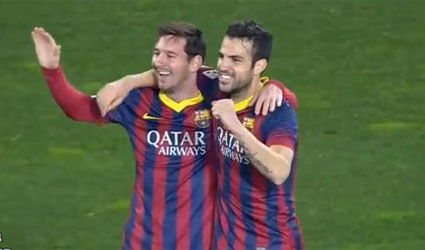 All good news for Barcelona last night as they made it through to another classic final in the Copa del Rey (King's Cup), even though they only managed a 1-1 draw against Real Sociedad.
Lionel Messi scored the only goal for Barca, securing a 3-1 aggregate win and paving the way for a not-to-be-missed final with arch-rivals Real Madrid on April 19.
The visitors managed to maintain the majority of play and, as the game progressed, Sociedad looked resigned to losing before Antoine Griezmann's face saver as he scored a goal with just three minutes to spare.
Andres Iniesta is hoping that Barcelona players have a chance at winning all four major trophies this season.
In the other semi final match, Real Madrid beat Atletico Madrid with a 2-0 win, with early penalty goals scored by Cristiano Ronaldo.
Barcelona, Real Madrid and Atletico Madrid are now sharing the top spot in the Spanish football league with 57 points each, only separated by goal difference.