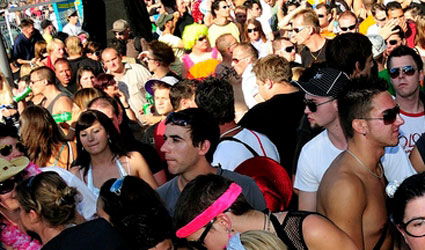 German prosecutors have announced that they have charged ten people with various charges including involuntary manslaughter over a mass panic incident at the Love Parade techno music festival nearly four years ago which resulted in 21 deaths.
The crush happened as hundreds of thousands of people tried to squeeze through a narrow tunnel, more than 500 people were injured during the tragedy on July 24, 2010.
The mayor of Duisburg at the time, Adolf Sauerland, was forced to step down after a 2012 city referendum, accused him of having ignored warnings that the venue was too small.
An interim police report listed a catalogue of crowd management and planning mistakes. The grounds opened nearly two hours later than promised, leading to an initial blockage in the tunnel, and there were no loudspeakers to control the crowd.
Duisburg prosecutor Horst Bien stated that four employees of the event's organisers, as well as six city workers, have been indicted. The ten face charges of involuntary manslaughter and bodily harm, charges that could see them facing up to five years jail time.
Proceedings against six further people had been dropped due to insufficient evidence for charges.
The suspects, whose names have not been released, have been accused of serious planning failures and failing to follow security procedures properly at the event.
The victims included foreigners from Spain, Australia, Italy, Bosnia, China and the Netherlands.
The Love Parade started as an impromptu party on Berlin's main shopping street in 1989, turning into an annual pilgrimage for millions of techno fans from around the world.