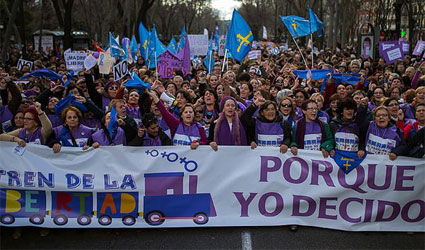 In a secret ballot on Tuesday, Spanish MPs voted to continue moving forward with legislation to limit access to abortion. The vote resulted in 183 to 151 against abandoning the proposed changes to the abortion law.
Proposed last December by the governing Partido Popular (Conservative party), the legislation looks to enforce what could become the toughest abortion legislation in Europe. The changes will make abortion illegal except in cases of rape or if there is a proven risk to the physical and mental health of the mother, these criteria will have to be verified by two doctors.
The move has been heavily criticised by women's groups who say that the changes are a massive step backwards.
Prime minister, Mariano Rajoy has defended the changes, saying that they fulfil an electoral promise, the Catholic Church has also championed the changes.
The idea is unpopular among Spanish citizens, polls show that between 70% and 80% are opposed to reverting the country's abortion laws.
This week hundreds of women walked into regional government offices demanding that their bodies be registered in commercial registries, usually used for cars, they wanted official certification that their bodies belong to them, allowing them to make their own decisions.
Petitions have been signed and letters delivered to parliamentarians, and a platform, Wombastic, has been created specifically to share pro-choice drawings. Tens of thousands demonstrated in Madrid waving signs that demanded "MPs and rosaries, out of my ovaries".
The government however, is adamant it will go ahead despite internal dissent within the party about the issue.   In-fighting broke out after some regional leaders spoke out against the changes, dozens of municipalities, some of which are governed by People party leaders, have also said they will reject the changes.