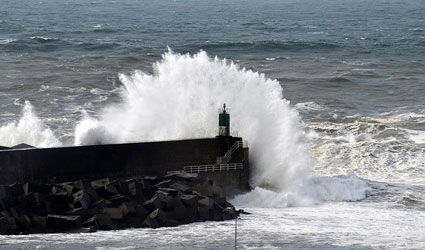 A BRITAIN left battered and wet with the worst flooding in decades is bracing itself for the biggest Atlantic storm of the year so far.
The rainstorms sweeping the UK has caused the worst flooding in decades and has set the level of the Thames at its highest in over 30 years, while new rainfall threatens to worsen the situation.
The areas hit the hardest by bad weather are in Southwest England, where hundreds of families have been forced to evacuate their homes, while floods have also reached counties near London, crossed by the River Thames.
The Environment Agency maintains 16 "serious" flood alerts – life-threatening- , two of which are in Southwest England and the rest in the Thames area.
In Berkshire and Surrey, just outside the British capital, many residents had to be evacuated by boat in some cases. Train services, vital for millions of British commuters, have also been altered due to the bad weather.
The biggest Atlantic storm of the year, however, is due today, with renewed rainfall and strong winds expected on the Southwest.
In Spain, a new storm originating in the Atlantic has put most of the peninsula under alert for strong winds, waves and snow.