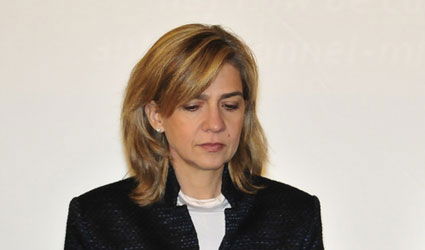 Spanish Police are searching for the person who videoed and photographed Princess Cristina inside the court building in Palma de Mallorca while she testified.
Judge José Castro, the instruction judge who took testimony to the Princess, warned that whoever did it could face "serious legal consequences".
Although reporters were allowed inside the court, all electronic devices – mobile telephones, computers, tablets, cameras and so on – were confiscated at the door to prevent any unauthorised photographs or videos.
However, one person managed to slip a video recording device in. The video, which was recorded from the back of the Princess and her two lawyers in the hall set apart from the main courtroom, was later turned into a photograph and published on the front page of Spanish national daily newspaper El Mundo, but has now gone viral.
The identity of the person who took the 'illegal' picture has not yet been discovered, but could in theory be any one of the 43 people present who included court staff, the media, solicitors and barristers.