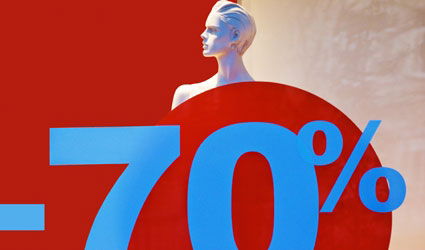 SPURIOUS reductions were detected by 65 per cent of shoppers at this year's winter sales.
"Before" amounts on labels were often higher than the original prices, replied participants in a FACUA survey.
Twenty-three per cent of those responding to the consumers' association questionnaire spotted this error in more than half the shops they entered.
A further 18 per cent saw labelling errors in less than half the shops while 16 per cent noticed only a few bogus mark-downs.  They had not seen any misleading labels at all, 8 per cent said.
Almost half found supposedly-reduced products that were not on offer before the sales began in 50 per cent of shops and stores, FACUA found.
Fifteen per cent noticed this in less than half and 16 per in "very few" establishments.  Three per cent did not encounter this particular ruse.
Seventy-one per cent of participants complained that shops announcing "Up to 50 per cent off" or "up to 60 per cent off" rarely reduced goods by this amount, FACUA said.  Sometimes few products were reduced, they said, although by law more than half must have discounts when a shop announces sales.