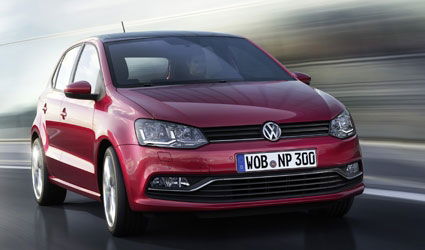 NEW engines and new technology shape the latest edition of Volkswagen's Polo, to arrive on the market this spring.
Along with the basic versions (Trendline, Comfortline and Highline), the new generation of the car will also be offered as a GTI, BlueGT, CrossPolo and BlueMotion model.
The entire range of the Polo, manufactured at the company's factory in Landaben (Navarra), has been reconfigured.
All petrol engines have been converted to new three –and four- cylinder versions.
The power levels at market launch are 44 kW/60 PS (indirect injection / MPI), 55kW/75 PS (MPI), 66kW/90PS (direct injection/TSI) and 81kW/110 PS (TSI).
Also new in the Polo are three direct injection three-cylinder turbodiesels (TDI).
They now all generate their power from 1.4 litres displacement (previously 1.2 and 1.6 litres).
The power range is identical to the previous model: 55 kW / 75 PS, 66 kW / 90 PS and 77 kW / 105 PS.
The Polo of 2014 offers a range of new convenience and safety functions that Volkswagen claims is unique in its class.
A new electro-mechanical servo steering system improves steering properties.
The car also offers the new optional Sport Select suspension – which uses electronically controlled dampers – so that drivers can choose between two tuning characteristics at the press of a button.
That means that the software and hardware of these systems follow the infotainment world of the larger Golf
Depending on the version they may offer functions like a Bluetooth audio streaming, a proximity sensor, two-finger map zooming in navigation mode and interfacing of the mobile phone to the vehicle's exterior antenna.