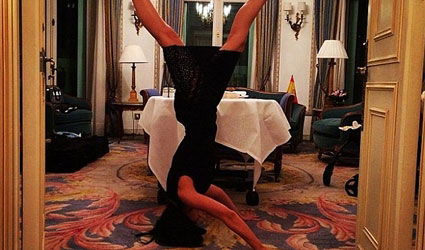 Possibly Hilaria Baldwin's New Year resolution was to pose for a daily yoga picture. If so, she has stayed true to her word as she has been posting regular pictures of herself of doing yoga poses.
On Sunday, Hilaria went for broke by posing topless. The 29 year-old actress posted the picture from her hotel bedroom in Madrid, before going out for a family dinner in the romantic city, with husband Alec and six month-old baby Carmen.
In the photo, Hilaria is sitting on the bed, stretching both arms and reaching her hands across her back; she wrote, 'Binding in bed #hilariaypd #yogapostureoftheday.'
On the previous Friday, husband Alec and six-month-old Carmen joined in as she did the popular 'stacking the chairs' pose in her hotel room. Sharing the picture – which shows Alec, Hilaria and Carmen stacked as chairs, Hilaria wrote: 'Stacking the chairs (pose) #yogapostureoftheday #hilariaypd Carmen took this opportunity to chew my hands… (sic)'
However, neither of the poses could quite beat Wednesday's selfie, Hilaria posted an image of herself doing a headstand, dressed in a black Stella McCartney cocktail dress. She captioned the snap: 'It's not always appropriate to do a headstand in a cocktail dress'.
Alec, 55, and Hilaria, who works for TV show Extra, are enjoying their time in Spain. Alec is shooting a new film in Madrid and has teamed up with Spanish actor/director Santiago Segura and Sony on the movie Torrente 5, the latest instalment of the most successful movie franchise in Spanish history.