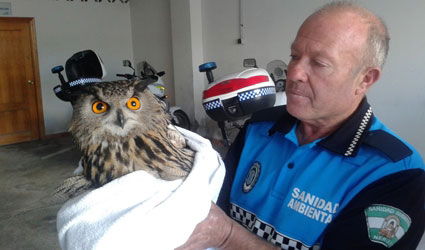 OFFICERS from the Environmental Health Unit from Nerja Local Police rescued an Eagle Owl trapped in the town's mortuary.
A worker from the municipal cemetery got in touch with police and informed them the bird was trapped on the second floor of the mortuary, between a window and a handrail.
The officers rescued the owl and contacted the Centre for the Recovery of Endangered Species in Malaga, which is now taking care of the animal.
They are characterised by the tufts on top of their heads and orange eyes.
The tufts resemble a pair of ears, and are more upright in males than in females.