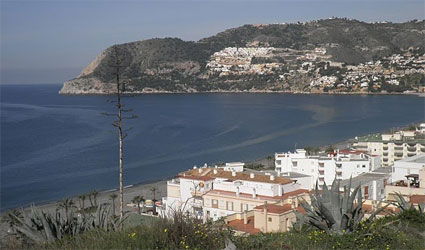 THE homeowners from an urbanisation with serious structural defects in La Herradura, finally had their day in court.
The Carmenes del Mar trial started last Friday, with eight people accused of being responsible for the construction of the defective urbanisation on the Cerro Gordo hillside.
Almuñecar Town Council didn't give the approval to the building works of the overall development project, a Granada court heard.
The representatives of the homeowners affected said they were unaware of that fact when they bought their properties.
They added they had been paying taxes –including for property, rubbish and electricity – ever since.
In court, the eight accused refused to take any responsibility for the damaged homes.
Their defence said the landslides that made several houses collapse, forced the closure of 15 of them and damaged many more, are the owners' responsibility.
They claimed that the neighbours not repairing broken elements, including a main sewer, caused water to leak and provoke the landslides. The residents say that warnings were given about 'structural irregularities' of the site even during construction, but the developer ignored them.
Meanwhile, the architect of the urbanisation said he only designed part of it.
He insisted he mainly changed the work of a colleague, the reason why his signature is in the final project.
He also said he wasn't aware of any defects until years later.
The Carmen del Mar urbanisation is made up of 425 houses which were sold between 2001 and 2005 for approximately €100,000 each.
New sessions of the trial are due to take place each Friday until April 25.