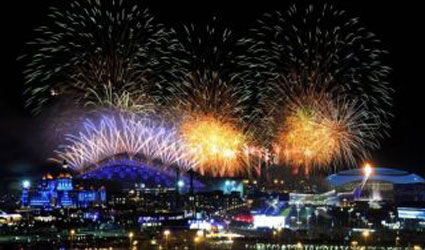 A Valencian pyrotechnic company has manufactured fireworks for the opening and closing ceremonies of the Sochi Winter Olympics, which are taking place in Russia, as well as for the Paralympics Games that will follow.
As reported by the company Ricasa in a statement, this is their first performance in Russia and the material was manufactured by a group of workers from the facilities that the firm has in Olocau, Valencia, and sent to the Russian city weeks ago.
During the opening ceremony, the entire roof of the stadium and the outside was impregnated with various effects made specifically for the twenty-second 'White Games', which have become the most expensive in history, with a budget of $50,000 million.
The spectators were able to see the creations of the Valencian company, made "with care and work" for an act of this nature, according to Ricasa.
The company´s head of pyrotechnics , Ricardo Caballer, expressed his "pride" for having been chosen  to "make pyrotechnic materials for an event of this magnitude".
Ricasa fireworks will also star in the closing ceremony and in the Paralympics Games that will follow.
The Valencian company is providing the pyrotechnic material for the first time in a Winter Olympic Games, although it has already participated in the past in similar events, such as the closing ceremony of the Olympic Games in Sydney (2000) or the Pan-American Games in Brazil and Mexico .