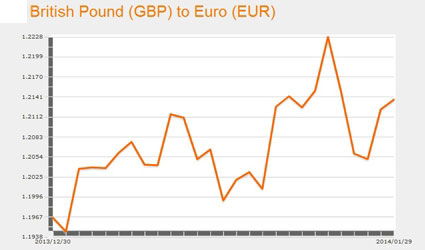 THE UK recovery is powering ahead and the pace of its recovery has even surprised the Bank of England.
At the end of January 2014, a Reuters poll showed that unemployment had fallen much quicker than expected to 7.1 per cent. The numbers have come as a shock to the Bank of England, which predicted last August that it could be early 2016 before the jobless rate hit 7 per cent.
The BoE Governor Mark Carney always said that the 7 per cent level in unemployment was not an automatic trigger for an interest rate hike but some commentators are now expecting that he would need to lower the threshold or add wage growth to the equation to hold off a rate rise.
Mark Carney commented in Davos as the World Economic Forum was underway, that the UK economy has not reached "escape velocity" yet and added that this should help reassure British business that the path of interest rates will be consistent with a sustained recovery and a more balanced demand.
The pound has performed extremely well so far and remains one of the best performing currencies across the major pairs. Sterling has closely reflected the UK's improving economic environment and as of last year, Sterling became one of the hottest currencies to watch in 2014.
UK GDP data released at the end of January recorded another strong result rising to 0.7 per cent quarter on quarter and annualised growth of 2.8 per cent, which will make the UK one of the best among the G-10 economies. In spite of the strong numbers, as the GDP data hit the wire, Sterling sold off instead of rallying as the whisper number was 0.9 per cent, which shows that the market now carries very high expectations for UK growth.
As the UK continues to grow, the picture is improving in the Euro zone. The single currency area growth prospects are definitely more subdued and the performance of currencies has everything to do with expectations.
The European Central Bank's on-going concerns about the "downside risks" to growth led many investors to believe that Eurozone data might still disappoint but the purchasing managers index (PMI) data in January showed that the Eurozone business got off to a much better start this year than expected. Stronger growth across the region was only let down by a lingering downturn in France. The result was healthily over the 50 mark that shows growth and it was also the highest reading since mid-2011 and beat all the forecasts in a Reuters poll of 25 economists.
One area of concern that could potentially weigh on the Euro is the on-going threat of deflation.  This could force the European Central Bank to act more aggressively to counter deflationary pressures and this could weaken the single currency moving forward.
There is reason to be optimistic, but one cannot escape the question; is the good news likely to last?