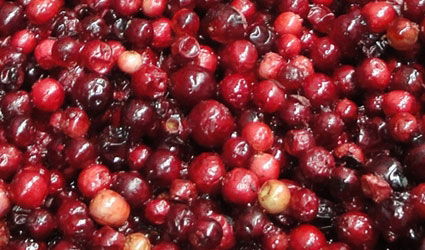 LINGONBERRIES (also known as cowberries) are this week's super food as researchers say eating lingonberry could halt the effects of a high fat diet. It means, in theory, you could be guilt free when indulging in fatty and junk food.
Scientists in Sweden found eating lingonberries could prevent weight gain in people with a high fat diet and say they can also lower blood sugar levels and cholesterol.
The study used a type of mouse that easily stores fat and, therefore, can be regarded as a model for humans who are overweight and at risk of diabetes. Some of the mice were fed a low fat diet, while the majority of the animals were fed a diet high in fat before being divided into groups, where all except one were fed a type of berry. After three months the researchers found that the group eating the lingonberry had the best results and had not gained weight.
However, eating acai berries, also classed as a 'super food' did the opposite in the study and led to weight gain and higher levels of fat.
Lingonberries are edible fruit that are native to forests in Europe and North America and are particularly popular in Sweden, commonly used in jams, compotes, juices, smoothies and syrups