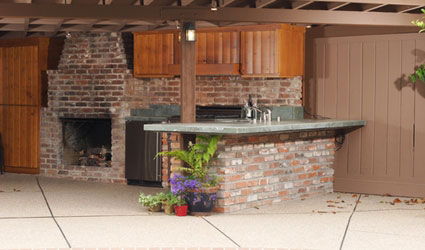 Barbeque season will soon be here, so why not start planning your outdoor kitchen and living space now.
Planning a kitchen area can be as basic or elaborate as your budget and space will allow, but remember to think about these top tips when designing your space:
Choose the right materials which will withstand the intense summer heat and the possible winter cold spell, so select durable materials and ensure all surfaces are recommended for exterior use.
Always try and plan for storage space, so that you can keep everything you need in one place rather than having to go inside for everything, so find spaces for your bins and places to store all your cutlery and utensils.
Make the most of cooking outside and take advantage of using homegrown vegetables and herbs and place a few pots of herbs and things like tomatoes and peppers nearby so a real back to nature, al fresco dining experience.
If space is a little tight, the clever inclusion of seating can be the answer. Try built in seating areas that can double up as storage underneath and then have comfy throws and cushions on top for seating, or include stools at worktops so make the most of the area and to encourage social gatherings around the cook.