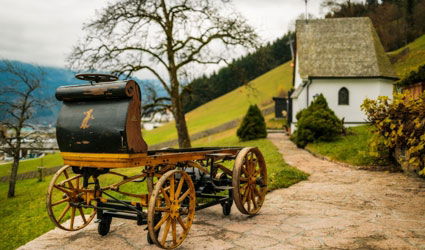 THE original and very first Porsche model has been recovered and is set to enrich the Porsche Museum's collection in Stuttgart (Germany).
Contrary to what many people believe, the world's first Porsche was designed more than 200 years ago.
In 1898, founder Ferdinand Porsche presented the "Egger-Lohner electric vehicle, C.2 Phaeton model," the manufacturer's first car ever.
Known as the P1 (standing for Porsche, number 1) for short, it weighed just 130 kilos and offered an output of 3hp.
Porsche engraved the code "P1" onto all of the key components, thus giving the electric vehicle its unofficial name.
The overall range of the vehicle could span up to 80 kilometres, a considerable feat for a vehicle of that period.
It also was one of the first vehicles registered in Austria.
Alongside a restructuring of the layout for the product and motorsport history area of the museum, the P1 now forms a centrepiece used to introduce visitors to the first part of the exhibition – the "prologue".
The innovative vehicle concept of the "P1" will bridge the gap between the past and present-day developments like the Porsche 918 Spyder.
The museum is located in Stuttgart, Southern Germany. It opens Tuesday to Sunday, 9am to 6pm.
For more information, visit www.porsche.com/museum.