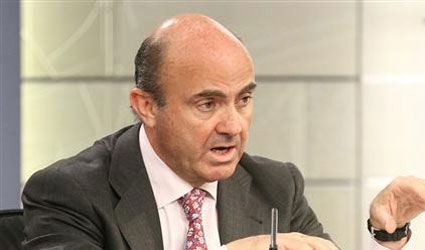 LUIS DE GUINDOS, Spain's Economy minister, was chipper after his recent Brussels visit.
Spain's economy is set to expand in 2014 by nearly double the forecast 0.7 per cent, De Guindos told an Economic and Financial Affairs Council (Ecofin) meeting.
"This will be the first time in six years that we'll have growth of almost 1 per cent," said.  He also predicted net creation of employment over the next few quarters, despite analysts' doubts.
This was one of the questions De Guindos faced in the European parliament. How could he talk of improvement, he was asked, when the unemployment rate was so high? 
He was confident, the minister answered, of creating net employment but acknowledged that Spain was on "a long and difficult road" with many obstacles.  Principal amongst them was the country's 26 per cent unemployment although the government's labour reforms were getting results, he insisted, and Spain had become "very competitive."
"Spain is now part of the solution, it's no longer the problem," De Guindos said when talking to the media at the end of the meeting.