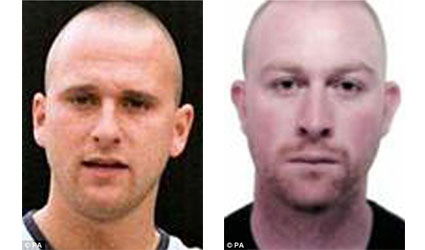 Spanish National Police has requested the cooperation of citizens to locate 10 criminals who might be in the country, including two British men wanted for murder.
Christopher Guest More and Kevin Thomas Parle appear alongside five Spaniards, one German, one Colombian and one Albanian on the list of the 10 most wanted criminals believed to be hiding in Spain.
The pair's mugshots feature on a rogue's gallery poster distributed and publicised across Spanish media at the weekend.
Kevin Thomas Parle, 33, is wanted in Britain for the murder of a young mother who was shot dead when three men burst into her home in Liverpool in 2005. Parle is 6'6" tall, has  a 1cm scar on the left side of his head and has blue eyes. He has been on the run since 2005 and, despite a number of public appeals by detectives in Spain and the UK, remains at large.
Parle, who goes by the nickname 'Hemp', has been listed among 10 crooks wanted by Spain's Civil Guard. He may be living in the Mediterranean town of Alicante. Police hope that the appeal will be spread by social media and lead to Parle being captured. A similar recent appeal led to the arrest of the suspected killer of a taxi driver and a Romanian wanted over a global prostitution ring.
Christopher Guest More, 36, from Lymm, near Warrington, who fled abroad following the "brutal and sadistic" murder of a drug dealer. More has spent a decade at large since the killing of Brian Waters at a derelict farm in Cheshire. He is 6ft tall, has a scar on his forehead, a shaved head and is of slim build. 
Police are also searching for Yolanda Payan Castellanos, a 50-year-old Colombian woman wanted in Colombia, Austria and Italy for homicide, armed robbery and membership in an organised crime group.
Among the other foreign fugitives thought to be in Spain is an Albanian man wanted in Belgium and Italy for drug trafficking and armed robbery and a German man wanted for breaking into safes.
The Spanish Costas are starting to lose their Costa del Crime reputation after a string of major arrests in recent years.
Last year alone Spanish police detained 35 fugitives wanted by British authorities.