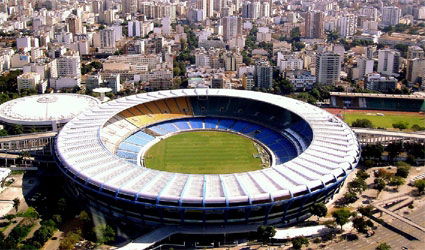 After a break of 12 years, mainly due to World War Two, football's World Cup was up and running again in Brazil in 1950 and there were a few shocks in store for certain countries!
England, playing in the competition for the first time and one of the favourites to win the Jules Rimet trophy, beat Chile 2-0 in their opening game but then suffered a shock 1-0 defeat at the hands of  the USA in Belo Horizonte. In fact, when this score appeared in English newspapers, many thought it was a misprint!
This result, combined with a defeat by Spain, led to England's elimination. Italy, the defending champions, lost their unbeaten record at the finals when they lost 3-2 to Sweden and subsequently also failed to progress from their group.
The final stage of the competition featured the four teams who had won their respective groups: Brazil, Spain (who also beat Chile 2-0 and defeated the USA 3-1), Sweden, and the 1930 champions Uruguay. 
It was decided this time round, that the overall winners would be the team that finished top of this group of four. There were no knockout games at all.
After thrashing Sweden 7-1 and Spain 6-1, Brazil took on Uruguay who had beaten the Swedes 3-2 and drawn 2-2 with the Spaniards, in the final group match, the winners of which would be declared World champions.
With a record crowd of 199,954 packed inside the Maracana Stadium in Rio de Janiero, the hosts needed only a draw against Uruguay to lift the trophy.
After taking the lead in the 47th minute through Ze Friaca,  Brazil look comfortable, but then it all went wrong. Uruguay equalised through Juan Schiaffino against the run of play and then, with just 12 minutes remaining, edged in front courtesy of Alcides Ghiggia's smart goal to stun the host nation and the vast audience to lift the coveted trophy for  second time, having won on home spoil 20 years earlier.. This defeat was referred to in Rio as the Maracanazo. 
* Ademir (Brazil) top-scored in the tournament with seven goals and the average attendance at each game was 60,773 – a new record that would not be broken until 1994. 
By Tony Matthews
Next week: The 1954 World Cup in Switzerland with England being joined by Scotland but no Spain.