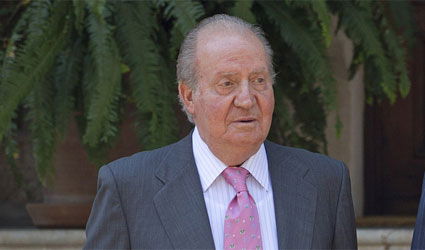 A recent poll put support for the Spanish monarchy at a historic low. More than 60 per cent of Spaniards want King Juan Carlos to step down. And all this is happening amid a series of scandals involving the royal household, the most serious of which are corruption charges against the king's son-in-law, also involving the king's daughter, Princess Cristina.
Spain´s royals have seen their popularity plummet to record lows, with more than 40% of Spaniards in a recent national newspaper poll stating that they support the idea of doing away with the monarchy. Even King Juan Carlos, once one of the world's most popular monarchs, couldn't escape unscathed – polls show more than two thirds of Spaniards think he should abdicate and hand the crown to his son.
A palace spokesman said that the summoning of the King's younger daughter, Princess Cristina, to answer accusations of fraud and money-laundering in court drags out the ordeal still more painfully. She's the first direct member of this royal family to be a formal suspect. The accusations have revealed a privileged lifestyle as Spain struggled in a recession. There were trips to South Africa's Kruger National Park allegedly paid for from embezzled public funds.
All this has made Spaniards angry at the establishment and hypersensitive to the misuse of public money. That's why, after hearing that the king's son-in-law was being investigated for fraud on a grand scale, public esteem for the monarchy started to decline.
The monarchy enjoyed huge esteem for decades because Juan Carlos played a strong role in Spain's transition from dictatorship to democracy. But now it is tarnished by a combination of the princess' legal woes and the king's own catastrophic decision to go on an expensive elephant hunting trip in 2012 — just as the nation teetered on the edge of financial chaos during Europe's debt crisis.
To his credit, the king apologised for his ill-fated safari. And he seeks to regain the favor of his subjects by multiplying his public appearances in spite of a series of surgeries from which he has not fully recovered.
As to the future, many believe that the appearance in court of Princess Cristina, regardless of the outcome, could improve the public image of he monarchy. Juan Carlos has made it clear he will not even consider stepping aside. However, the abdication last year of Queen Beatrix of the Netherlands, soon followed by King Albert II of Belgium renouncing the crown, renewed the pressure.