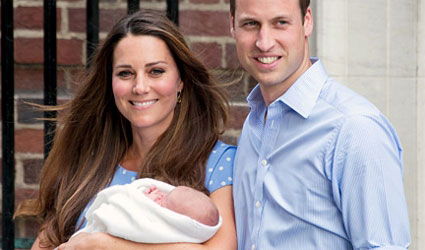 Future king Prince George may only be six months old, but he already has his globe trotting shoes on. He joined mum Kate on his first foreign holiday, for a visit to the Carribean island of Mustique. Kate flew to the exclusive private island, made famous by the Queen's late sister, Princess Margaret, who once had a holiday home there, two weeks ago.
Although Prince William did not join in the family holiday, Kate had plenty of hands on help from her brother James, 26, parents, Michael and Carole, and sister Pippa.
The family has taken an annual holiday on the island for several years now and this year's trip coincided with Mrs Middleton's 59th birthday. Previously they holidayed on neighbouring Barbados, but as their fortune grew, they switched to Mustique.
It is only the fourth time that the third in line to the throne has been photographed since his arrival last July, and he has only officially been seen in the flesh once by members of the public – leaving the hospital with his parents when he was just over 24 hours old.
The Duchess took a commercial British Airways flight to St Vincent, travelling with other passengers before catching a private plane to Mustique. Her parents also travel by BA as they are still eligible for staff discounts with the airline – Mr Middleton was an aircraft dispatcher with the firm while his wife was a stewardess before she started her internet company, Party Pieces.
A chef, a butler, a housekeeper and gardener also joined the family for the Duchess' one week holiday before she flew back home to join William. He is in the middle of a 10 week course in agricultural management at Cambridge University and was unable to take any time off.
The Prince and his wife are expected to undertake a three-week tour of Australia and New Zealand in April and are hoping to take baby George with them, meaning the little prince will have accumulated around 40,000 miles before he is even ten months old.