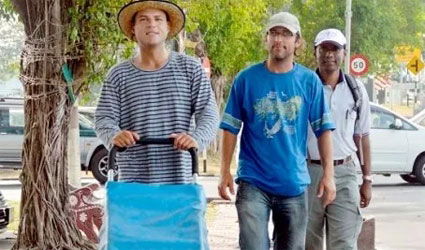 Love for humanity and nature inspired a 32-year-old Spanish national Ignacio Dekan Mouliaa to take on a solo world tour covering 50,000km across 40 countries – on foot.
Ignacio better known as Nacho, left his Madrid home town in March last year.  Finally ending his journey in Langkawi, an island on Malaysia´s west coast on Monday.
He stayed for three days on the island to complete a 60km walk before hopping on a ferry to Kuala Perlis. From there he will walk to Johor before crossing over to Singapore.
"Walking around the world is the culmination of a life-long dream. I target to complete my epic odyssey covering 50,000km within five years.
"I will be penning a book based on my experience throughout this journey to share it with others," he said.
Ignacio said he had covered several countries including France, Italy, Slovenia, Hungary, Serbia, Bulgaria, Turkey, Iran, Bangladesh, Myanmar and Thailand.
"After exploring Malaysia from Perlis to Johor, I will continue the trek to Singapore before entering Indonesia and Australia.
"It is something the world told me I could not do but deep inside, I knew I could do. I hope that by fulfilling my dream, I will inspire others to pursue theirs," he said.