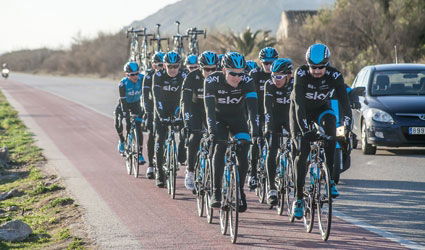 BRITISH superstar cyclist Sir Bradley Wiggins is getting ready for the 23rd Iberostar Challenge cycling competition to start on Sunday in Mallorca.
The 2012 Tour de France cycling race winner, and multi Olympics gold medal winner, was spotted training on the Bay of Pollensa with the Sky Team, to which he has belonged since 2010.
The team has been making the final preparations to the competition from their established base in Alcudia.
The Iberostar Challenge marks the start of the European season for the team, which is now entering its fifth season on the road.
Also known as the Vuelta a Mallorca, the cycling competition has been held in early February in Mallorca for 22 years.
It consists on a series of one day bike races held in different towns in Mallorca, including Palma City, Deia or Ses Salines.
As riders are allowed not to participate on certain days if they wish so, this competition is not classed as a multi day race competition by the International Cyclist Union (UCI).
But it is precisely this feature what makes it popular among teams, using it as an early season preparatory event.