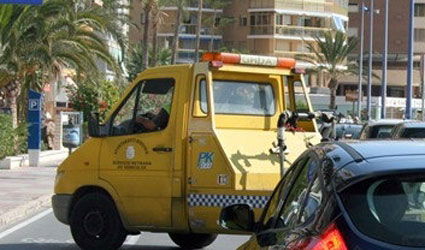 TAX authority Hacienda has seized the takings of Benidorm's parking concessionary.
ParkControl runs Benidorm's Blue Zone parking zones and the municipal tow-truck but allegedly owes Hacienda approximately €1.7 million in unpaid tax.
Tax Inspectors, accompanied by two Local Police officers, recently spent an hour at ParkControl's Benidorm offices. Four company employees were appointed as administrators and must now transfer each day's takings from parking metres and tow-truck fines to Hacienda.
As well as the company' s takings, Hacienda has blocked other Park Control assets including bank accounts, sources revealed.  
Meanwhile Hacienda will pay the wages of ParkControl's 31 employees but nothing else.  Benidorm City hall is considering taking over to continue providing the parking and tow-truck service but would have to meet the cost of petrol and other essentials.