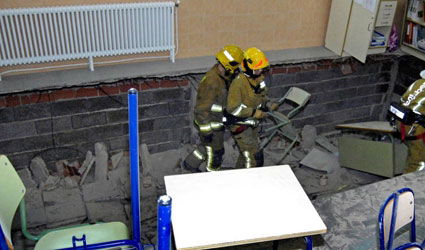 SANTA POLA'S Hispanidad School in the Valencian community of Baja Vinalopo will be demolished at Easter.
The action comes a year after a teacher and nine pupils were injured after a floor collapsed in one of the classrooms.
Subsequent technical assessments of the building following the floor collapse showed it to be more than 40 years old and affected by multiple deficiencies in construction and a poor state of repair. The project and plans are expected to be finalised this week, and then the Regional Government will give approval and make €100,000 available for the demolition work. Mayor Miguel Zaragoza said the demolition will take place as soon as possible during a time when there is no school activity.
 He said the time frame of the Easter holidays "is sufficient to execute the demolition."
The Mayor assures students will not miss classes and that the next step will be the "drafting of a new school project."