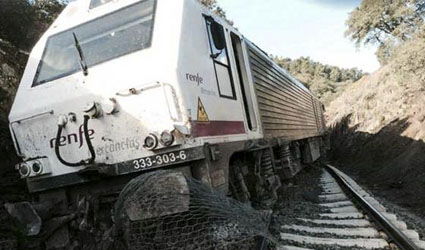 A train carrying 720 tonnes of ammonia has derailed near Huelva in the early hours of the morning.
The Andalucian government has initiated an emergency rescue plan following the accident, in which a train carrying 18 wagons of ammonia came off the rails near La Nava near Huelva at 3.45 in the morning. Each wagon contained 40 tonnes of the chemical.
The fire brigade has announced that, although they have detected a small leak from one of the tanks, there is no danger to the public. They have managed to control the leak.
Other than the drivers, who suffered from some bruising, no people were hurt in the accident on the Huelva to Portugal train, which occurred four kilometres away from the nearest town. The train was heading for Puerto Llano in Ciudad Real and then on to Portugal.
The accident was due to a landslide which had caused rubble to fall onto the rail lines. Several emergency services have been called in to deal with the spillage: the fire brigade, Guardia Civil, technicians  and the Andalucia Emergency Group have been working together to clear the area.
The line between Jabugo, Huelva and Fregenal, Badajoz has been temporarily closed. Train passengers on the Huelva-Zafra-Madrid service will have to take a courtesy bus between the closed sections.