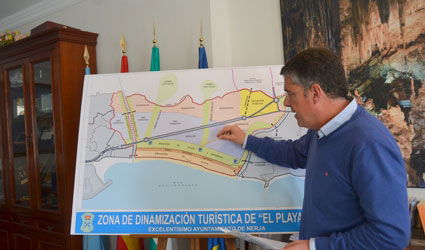 A NEW plan to develop El Playazo beach has been passed in the last council meeting in Nerja.
The project, which aims to boost the economy of the town, covers an area of more than 1 million square metres.
It includes the widening of El Playazo beach to up to 70 metres from the seashore, followed by a 30 metre strip to build a promenade.
The next 100 metres will be devoted to leisure facilities, beach bars and three public car parks.
From there the project includes the building of hotels under the criterion of the Plan for Urban Development of the regional government.
Also included are new green areas in the margins of the Chillar and Seco rivers, an extension of the Verano Azul parking area and three pedestrian accesses from the Chaparil area.
The icing on the cake of this project will be transformation of the N340 road into an avenue lined with trees.